Chrome River vs. Concur Review Comparison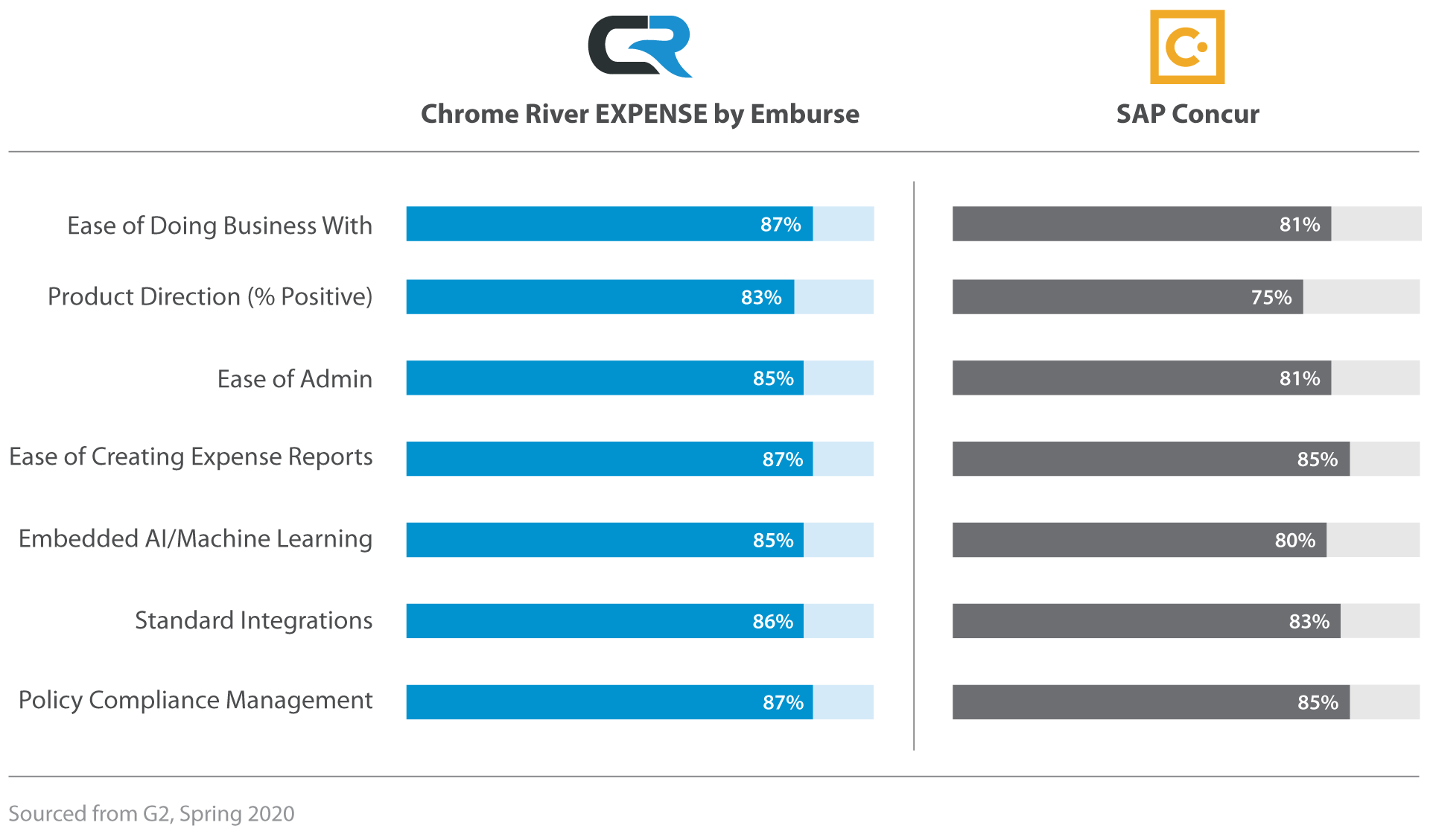 If you're in the market for a global expense management solution that can handle your organization's specific requirements, your shortlist quickly boils down to two competitors: Concur and Chrome River. Both can handle expense report creation, submission, and approval routing. But which vendor gives you more mobile capabilities, more features, more global scalability and more productivity gains?
Just ask your peers.
This Vendor Comparison Report from G2 aggregates customer reviews across 20 dimensions, including:
System reliability, satisfaction with technical support, product dependability, and product direction

Mobile features to help make business travelers more productive
Spend visibility, cost control measures, and system-wide reporting for CFOs
Seamless integrations with finance systems, corporate card programs, and travel management companies for CIOs and admins
Expense policy compliance enforcement for finance teams

And ease of adoption, ease of use, app maintenance
If your organization requires a modern expense solution that is built to last, endlessly configurable to your unique business rules, and will grow with you with innovative new features, your choice just got a lot clearer. Download the complete report and see for yourself.
About Us
Chrome River provides expense and invoice automation solutions that let business flow for more than 1,000 organizations worldwide. The company's easy-to-use, enterprise-scale solutions enable future-readiness for its customers. As a result of this focus on innovation, Chrome River is rated as a Leader in expense management by analyst firm IDC. Chrome River's commitment to delivering a superior customer journey by creating long-term value for its customers, makes it a preferred choice of CFOs, CIOs, AP teams, travel managers and business travelers. Details on Chrome River's customers can be found on the company's web site.
More than 2 million business travelers around the world trust Chrome River. To learn more, contact Chrome River at 888-781-0088, or visit chromeriver.com and its social pages on LinkedIn, Facebook, Twitter, and Instagram.
Our team members enjoy Chrome River's automated process and the reduction in time spent on creating expense reports and submitting them so they can focus more on their sales, support, and customer service and use their mobile devices for receipts and approvals and most importantly, quick reimbursement.

We were focused on finding an expense management system that our employees would love to use, while still giving us the control and analytics that we need.

Our choice of Chrome River EXPENSE was made in part due to the very user-friendly interface, easy configurability, and the clear commitment to impactful customer service – all aspects in which Chrome River was the clear winner. While Chrome River is not as large as some of the other vendors we considered, we found that to be a benefit and our due diligence showed that it could support us as well as any large players in the space, along with a personalized level of customer care.