File Expense Reports
from Anywhere, Beautifully
Welcome to The River
Chrome River meets the challenge of today's demanding workforce with its expense management solution, Chrome River EXPENSE. Use any device, anytime, anywhere to file expense reports and the solution is endlessly configurable to fit the way any business works. Chrome River makes employees happy and lets business flow, which makes AP departments, travel managers, and the office of the CFO even happier.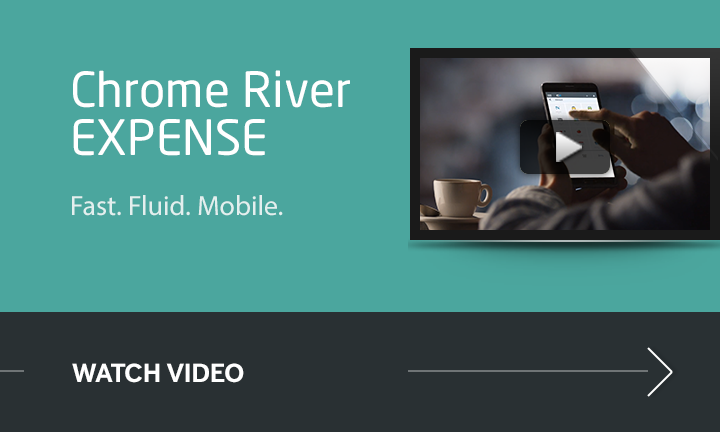 If you like what you see in the video, be sure to request a full demonstration by filling out to the form to the right!
Start an expense report when you purchase your flight on your desktop, add your taxi receipt from your mobile phone, and finish on your tablet on the flight home. And all with the same user experience on each device.
A solution that ensures your business travelers stay in compliance with company T&E policies, is integrated with your online booking tool, your corporate cards, and your finance system.
Automatic approval routing for expenses so that no one ever has to wait for reimbursement.
Expense reports that don't care how many borders you cross, with multi-language, multi-currency, and tracking of global taxation rates built into the software.
Imagine Speed. Fluidity. Mobility.
Chrome River is a powerful travel and expense management solution for mid-size organizations to the Fortune 500, serving all industries. With no up-front hardware or software costs and a global solution that is quickly deliverable, Chrome River immediately improves your operations and provides an instant return on investment. And with our modern web interface, response time is lightning fast on any and every device regardless of size or shape.
Let business flow with Chrome River
I spend a lot of my time traveling, and I always try to avoid bringing my laptop with me. This means that I need an expense management solution that allows me to both submit my own expenses, as well as approve others, from my iPad or iPhone. With Chrome River MERCURY, I can do both of those with ease. With many business tools, I feel that I miss a lot of the functionality using the mobile app, but MERCURY gives me the same experience regardless of what device I use to access it.
Many of Huron's Consultants spend much of their time on the road with clients, so it's critical that their expenses can be submitted and approved in a timely manner. With Chrome River MERCURY, the entire expense process, from taking photos of receipts and submitting expenses through to expense approval, can be done just as easily, whether the user is on a smartphone, a tablet, or a laptop. With such a mobile workforce, we really need a solution that requires limited training or IT support, so our team can hit the ground running and submit their expense reports with a minimum amount of fuss.
The new interface, Mercury, features responsive design, which automatically configures the content to the operating system and screen on which it's being viewed—whether desktop, mobile or tablet.