Remplir ses notes de frais partout, et à la perfection
Welcome to The River
Chrome River répond au challenge lancé par la main d'œuvre d'aujourd'hui, avec la toute nouvelle version de ses solutions de gestion des dépenses, Chrome River EXPENSE. On peut remplir une note de frais sur n'importe quel appareil, partout et à tout moment, et la solution est totalement configurable pour pouvoir s'adapter au modèle de l'entreprise. Chrome River rend les salariés heureux et aide à fluidifier le business, ce qui rend les services comptabilité, les services déplacements et les services de direction, heureux eux-aussi.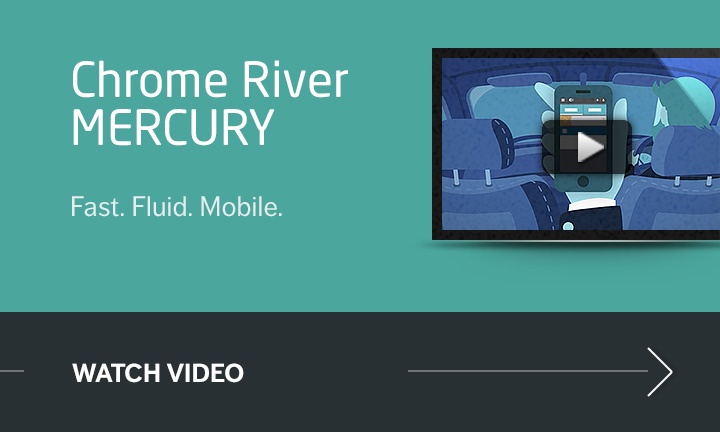 Si vous aimez ce que vous voyez dans la vidéo, n'hésitez pas à demander une démonstration complète en remplissant le formulaire ici à droite !
Commencez à remplir votre note de frais sur votre ordinateur de bureau, en même temps que vous réservez un vol. Puis ajoutez la note du taxi depuis votre smartphone et enfin, terminez sur votre tablette lors de votre vol retour. Sur chaque appareil, la même expérience d'utilisation.
La solution permet aux voyageurs et aux commerciaux de rester dans les règles fixées par l'entreprise. Les outils de réservation en ligne, les cartes de paiement de la société et votre système financier est intégré.
Des validations automatiques pour certains frais, ainsi plus besoin d'attendre les remboursements.
Des notes de frais qui se moquent des frontières, des langues et des monnaies, et s'adaptent automatiquement aux différentes fiscalités intégrées dans le logiciel.
Imaginez la vitesse, la fluidité et la mobilité.
La solution Chrome River de gestion efficace des frais de déplacements s'adresse aux moyennes entreprises ainsi que les grandes multinationales listées dans Fortune 500. Sans un logiciel lourd ni des coûts élevés de licence, grâce à une solution globale rapidement livrée, Chrome River améliore instantanément vos opérations et vous apporte un retour sur investissement immédiat. Et avec notre nouvelle interface web , les temps de réponse sont rapides comme l'éclair sur tous les appareils, de toutes tailles et de toutes formes.
Let business flow with Chrome River
I spend a lot of my time traveling, and I always try to avoid bringing my laptop with me. This means that I need an expense management solution that allows me to both submit my own expenses, as well as approve others, from my iPad or iPhone. With Chrome River MERCURY, I can do both of those with ease. With many business tools, I feel that I miss a lot of the functionality using the mobile app, but MERCURY gives me the same experience regardless of what device I use to access it.
Many of Huron's Consultants spend much of their time on the road with clients, so it's critical that their expenses can be submitted and approved in a timely manner. With Chrome River MERCURY, the entire expense process, from taking photos of receipts and submitting expenses through to expense approval, can be done just as easily, whether the user is on a smartphone, a tablet, or a laptop. With such a mobile workforce, we really need a solution that requires limited training or IT support, so our team can hit the ground running and submit their expense reports with a minimum amount of fuss.
The new interface, Mercury, features responsive design, which automatically configures the content to the operating system and screen on which it's being viewed—whether desktop, mobile or tablet.