Modern, Seamless Expense Reimbursement
for Non-Employee Submitters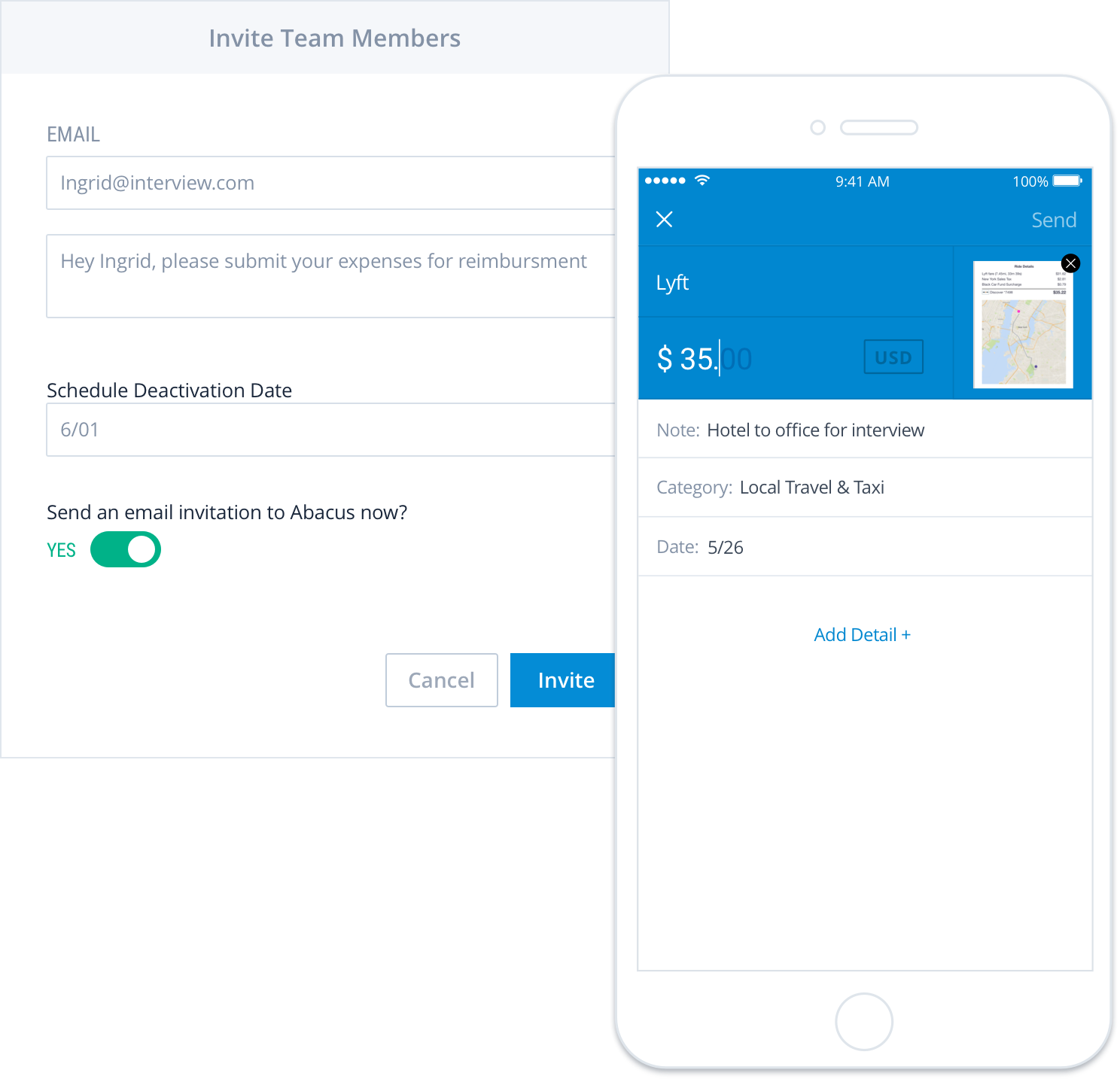 Let Business Flow
Just as Chrome River provides sophisticated automation to streamline expense management workflows for all your employees, we've leveraged Abacus REACH, working hand-in-hand with EXPENSE, to simplify compliance and the reimbursement process for your job candidates, contractors, consultants and volunteers.
These non-employees need mobile solutions that automate manual tasks just like your internal business travelers and expense approvers do. Eliminate paper-based requirements for expense management that make policy enforcement labor-intensive for the finance department and create tedious, burdensome work for business travelers. Free your non-employee stakeholders from painfully slow reimbursement and remove stress from the recruiting process for job candidates.
Use the form on the right to request a full demonstration of REACH:
Enable user friendly, mobile-first expense submission for non-employees and one-off users
Easily provision temporary access and quick self-setup for users
Configure travel policies, spending rules enforcement and approval workflows
Reimburse via direct deposit within 48 hours
Issue virtual or physical cards with granular controls to eliminate reimbursements completely
We can't wait to show you how REACH can help your organization!
About Us
Chrome River provides expense and invoice automation solutions that let business flow for more than 1,000 organizations worldwide. The company's easy-to-use, enterprise-scale solutions enable future-readiness for its customers. As a result of this focus on innovation, Chrome River is rated as a Leader in expense management by analyst firm IDC. Chrome River's commitment to delivering a superior customer journey by creating long-term value for its customers, makes it a preferred choice of CFOs, CIOs, AP teams, travel managers and business travelers. Details on Chrome River's customers can be found on the company's web site.
More than 2 million business travelers around the world trust Chrome River. To learn more, contact Chrome River at 888-781-0088, or visit chromeriver.com and its social pages on LinkedIn, Facebook, Twitter and Instagram.
Let's Get a Time on the Books
Chrome River provides huge time savings for us and it's enabled us to refrain from hiring new people as we grow. Analytics reports are very helpful and identify ways we can save money.
You don't realize how much equity Chrome River has in our organization. It's the most praised and sought after application. Everyone always asks why everything can't run like Chrome River.
The [Chrome River] system was built—expense bar, routing, approval—and all done in 2 days; it took us 7 months to get as far with [our previous product]!