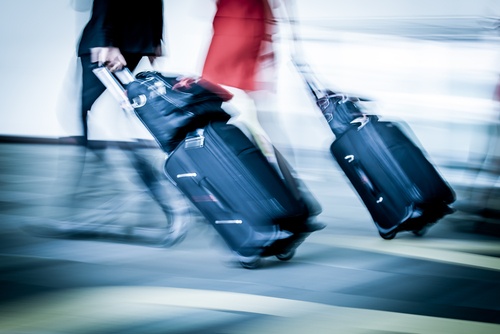 While more than one-third of corporate travelers typically feel positive about traveling for business, that doesn't mean they all enjoy a stress-free experience. In fact, a massive 93 percent of business travelers heading to international destinations feel stressed-out at some point along their journey.
The info comes from a survey conducted by Booking.com, which collected responses from 4,500 corporate travelers from eight different countries. So where is all this travel-related stress coming from? American business travelers are most anxious about:
32 percent: Missing a flight or train
26 percent: Language issues or barriers
22 percent: Possibility of lost luggage
21 percent: Being in unfamiliar territory
18 percent: Getting around the city
18 percent: Losing essential documents, such as passport or presentation
17 percent: IT setup, possibility devices won't work
16 percent: Canceled meetings
16 percent: Meeting or presenting to people they don't know
13 percent: Cultural differences
12 percent: Losing a company-owned laptop, mobile phone or other device
Airport Angst


The biggest stressors by far for American corporate travelers erupt in and around the airport. International travel delays and cancellations topped the anxiety list, with a 47-percent vote. Thirty-two percent were most concerned about missing their flight, while jet lag was most loathed by 42 percent of the respondents. Airport security was another stress point for 26 percent of American business travelers.
Destination Distress

Once American business travelers land in foreign lands, many encounter a whole new set of stressors. More than one-quarter of American travelers are anxious about language barriers and issues, while 21 percent fret about being in unfamiliar territory. Cultural differences bring angst to 13 percent.
Related: 8 Key Tips for Business Travelers
Missing Family and Friends


Simply being away from their families and friends is another source of anxiety, with more than one-third pegging it as their least favorite aspect about travel. Men are a shade more likely than women to feel this way, with 40 percent of men deeply missing their favorite folks, compared to 34 percent of women.
Other Stressors


While the Booking.com survey touched on the most common stressors, myriad others are likely to be part of the business travelers' mix. These include pre-travel planning activities, finding and booking accommodations, and arranging ground transportation to the airport and at their ultimate destination. Getting around an unfamiliar city can also induce worry, as can meeting and presenting to new people for the first time.
Don't forget the need to hang onto receipts, figure out if your meals and other purchases are compliant, and track your other expenses. Add a decrease in regular exercise, less-than-healthy food choices, and a lack of sleep, and it's no wonder business travelers pack along stress wherever they go.
If you're interested in hearing more about how to improve your business travelers' happiness, attend the Business Travel News Business Travel Happiness Index webinar, held on May 5 at 10am PT / 1pm ET.


I just love the Chrome River application. I could probably sell it! Finance Administrative Coordinator Law Firm, 800 Employees
Can't we just move year-end, so that we can roll out Chrome River sooner!? Financial Systems Director Law Firm, 300 Employees